Winter and Summertime Sports: I'm ALL IN!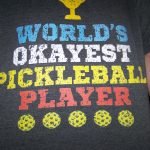 My sister clued me in to two sports she has been playing for close to a year now: pickle ball and wally ball.
She has been playing  several days a week (four days out of seven, two to three hours at a time) and gets lots of exercise because she LOVES them.
So , seeing how well she stuck with them, three months ago I started playing pickle ball, too, and now I'm hooked.
Today I tried wally ball for the first time. I love it, too. (It uses different upper-body muscles than pickle ball, so that's a plus.)
I knew I needed to find sports I'd love playing repeatedly so exercise didn't feel tedious.
I love riding my bicycle, but I can only do that when the weather is decent . Up here in the Pacific Northwest, bike riding is often impossible during the winter and whenever it rains.
So, I needed to find sports I can enjoy rain or shine, freezing weather or forest fire. (I wasn't able to ride the past two years much because there was so much smoke due to forest fires in the region.)
I'm enjoying the heck out of it, losing weight, and feeling a whole lot better.
I'm just about to turn 68 years old, so I knew I needed to start doing something more active than I have been before I fritter away my physical fitness entirely.
I read that having a desk-bound job is as bad as being a smoker. (Thankfully, I never smoked.) That news got me to thinking I needed to get up, get out, and take better care of myself.
I'm excited to have discovered two new sports that make me eager to do them. Getting addicted to good exercise routines is a good thing–and I have Jackie to thank for inviting me to give them a try!