Tough Task: Pulling Up Cork Flooring
The 3/4″ cork flooring in my bathroom was glued over at least two other layers of linoleum flooring, making the accumulated elevation of the bathroom close to an inch higher than the hallway outside it.
I looked at it for more than a week, wondering if I should try to pry it up because I researched doing so on the 'net and learned it's a real PITA to try to pull up cork flooring.
But  knew  I'd be unhappy if we applied still more elevation by adding the new flooring…
So, two days ago, I decided, "Hell, it's only about 8′ x 4' and a quarter of that is cabinet, which I don't have to re-floor under. I can do this! I will do this!!!"
Ho boy… famous last words…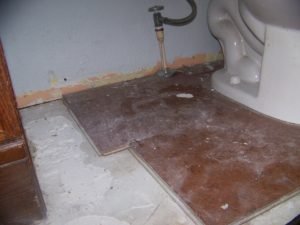 Remaining bit of cork flooring
      What was under cork flooring
It has taken me at least four hours (not non-stop, because I get exhausted) to get 3/4 of it down to where we can lay the new flooring over it.
I can't take up the last quarter until the day the flooring gets underway because my toilet sits on it. I'd have to take it up and put it back down after removing the cork and glue underneath, and then I'd have to do it again after the new flooring goes in.
New flooring for bathroom, kitchen and hallways
I know it's going to be worth the time and torment it took to rip out the cork flooring, so I feel good about going to the trouble. But I will never get cork flooring again, as a result of this experience.
It feels like trying to excavate the Grand Canyon with a teaspoon. Removing cork flooring (unless it's a floating floor) is a tedious, time-consuming task.
I just keep telling myself, "It will be worth it… It will be worth it…" as perspiration cascades down my forehead and face.
It isn't a job for the faint of heart–that's for sure!
I guess, because we're so close to having the rest of my place done, I can show you some before images of the areas still to be done…  I was waiting to to show these so you didn't feel sorry for me  any longer than necessary, but we're probably just a couple weeks from having the flooring done, so here's my present situation in the kitchen and hallways…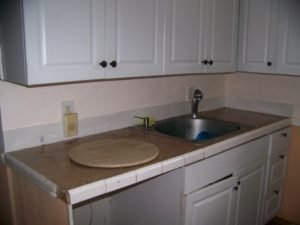 crappy linoleum counter tops
with busted ceramic end pieces…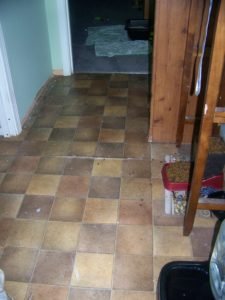 Present flooring in kitchen and hallways
The new quartz counter tops are probably 3 to 4 weeks out. I'll share images when they're in. Cannot wait!
It's gonna be great!
It's this in-between period, where everything is half done, that's the hard part emotionally. Half of my place looks fabulous; the other half looks like the wreck of the Hesperus!
But it won't be long now!