Back in the (Bike) Saddle Again
Images: Lisa and me on the Orting Trail
These photos were taken during a solar eclipse
a couple years ago.
Lisa and I are back on the Orting bike trail three days a week until my chest masculinization surgery happens in late August or early September (COVID containment willing).
I want to do my best to lose another ten pounds before the surgery so I weigh less than 200 pounds afterward. I figure my breasts weigh at least three pounds combined. Yeah, they're big.
Today was our second outing. The first one, last Friday, seemed almost too easy, given that we haven't ridden in two years.
Today's trip was noticeably harder, although it was the same trail. I think our bike tires probably need pumping up to capacity again: I haven't done that in a week.  I'll do it next time we go, for sure!
The Orting Trail is one of the favorite rides for most bikers who live in this area. It follows the Carbon River for a time and meanders through evergreens and other northwest flora.  Occasionally we hear of cougar and bear sightings from other riders on the trail, but we haven't seen them. I would love to, as long as they aren't too close. (I respect their abilities!)
We've seen ducks, meadowlarks, woodpeckers, robins, and other birds, "pollywogs" (tadpoles) and frogs. I've seen a deer with her fawn.
We've witnessed an amazing mid-afternoon solar eclipse that transformed the trail into rarely seen fractals.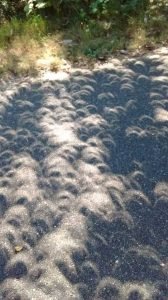 This looks like a skull yard to me,
but it's the shadows on the trail we were riding on
during the eclipse.
Biking is fun and it's aerobic. It uses core muscles and other muscles. It can be made into a marathon challenge or a leisurely ride.
We've been passed by bikers who are training for the annual (and upcoming) Seattle to Portland event, and we've passed moms pushing strollers, kids riding skateboards, and people riding horses. We probably average 8 miles per hour going uphill and fifteen or twenty miles per hour coming back to the vehicle from South Prairie. Scooting downhill is our reward for riding uphill.
South Prairie–where we end up–is about 750 feet higher than Orting, so in the 7.5 miles between the two places, we're pulling probably a 1% grade, on average. There are a few places that are steeper; we call the steepest, shortest one Mount Olympus; it's probably a 5 or 6% upgrade, but it's less than four hundred feet in length, probably.
The other "hills" are probably 2 to 3% grades–nothing horrendous, but they're considerably longer, so they take more out of us than the rest of the ride…
The trail is just long enough and just "tough" enough to make us feel like we've truly exercised and come out the winners.
And that's what a good workout should do. It should be fun enough that you want to do it again, and hard enough that you feel like you got something out of it health-wise.
The Orting Trail is "it" for us!
P.S. I've taken my California cousin (Patty Foxen Brubacher) there, too, in the past…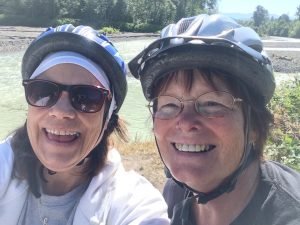 As an Amazon Associate I earn from qualifying purchases