About The Fairy Store in Lakewood Washington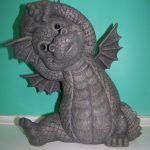 If you love fairies, dragons, gnomes, li'l critters and other whimsical and fantastical creatures, and you live in the Seattle/Tacoma/Olympia/Puyallup region, be sure to visit The Fairy Store in Lakewood just off Interstate 5 on 84th Street.
If you live farther afield, go online to visit their website (link below).
The Fairy Store doesn't compete with big box stores or mall stores. Its proprietors carry unique products.
And if they don't carry what you're looking for, they usually know who does and will gladly let you know who and where they are. Their ethic in this regard has earned them fond, eager reciprocity. (Let's applaud this: proprietors helping each other satisfy their customers! This is commerce I can soundly and proudly get behind!)
Their philosophy, as best I can describe it, is  "Don't compete–complete!"
The proprietors look high and low for (and carry) the harder-to-find items that customers rarely see elsewhere,  or don't even know they're looking for … until they stand in the store marveling at them.
I never go into The Fairy Store without coming out with something for myself or for a relative or loved one who will  flip over what I've discovered under its roof.
Today I wandered in on my way home from lunch with a friend and spotted two perfect gifts for her upcoming birthday–that is, if I can wait that long to give them to her… (If she sees this post, I may as well give them to her early!)
Yoga Dragon
Santa Gnome
The adorable Santa gnome was 50% off. There are just two left, so if you love him when you see this, go get him, fast! The store is open Monday through Friday from 9 to 5. They're also open on Saturdays for a shorter period of time. They're closed Sundays.
The Yoga Dragon was the last one in the store, but they've ordered more. If you want one, call the store and have them set one aside for you as soon as it arrives.
The yoga dragon is about eight inches tall and almost that wide. (The picture doesn't do it justice. It's finely textured and looks just great "in person"–or "in dragon." As soon as I saw it, I melted. The store manager said he's been doing that for them, too—giving them lots of smiles and warm fuzzies.
The owner says it's the foot traffic more than the online traffic that keeps them on an even keel. People who discover the store reliably tell others about it, so they get new visitors regularly.
They have hard-to-find whimsical calendars, miniatures, and other treasures. Best of all, everything is so affordable that it isn't at all hard to say "yes" to the pieces that tickle your fancy.
I highly encourage you to check it out! Tell them Kris Smith sent you! (I told them I'd be blogging about them, and I want them to know I was true to my word!)